Our distributor
VälLjuD
participated to the Göteborg Ljud & Bild 2012. He was very pleased with the result. Next time I'll be there myself to enjoy the chance of enjoy the music in the north!!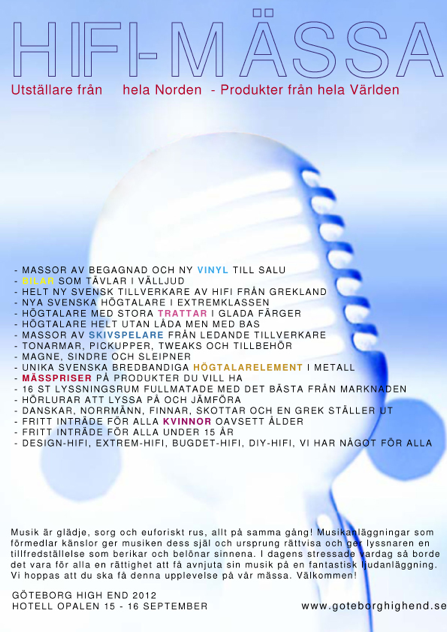 VälLjud, the Swedish distributor for Blumenhofer Acoustics, was at the Swedish show
Sweetspot 2001
showing the Blumenhofer FS3 and furthermore a dealer showing the Blumenhofer FS1.
VälLjud was playing on a system consisting of Kondo Ongaku, Kondo M7 Phono and Kondo SFZ Stepup and a Oracle Delphi turntable, there was also an EAR Acute cd player for the digital playback. All cables was also Kondo, and a Shunyata netfilter.
The show was a big success with a lot of compliments on the exquisite sound coming from the Blumenhofer speakers.
After a short cooperation
ValLjuD
used the Genuin FS 3 to present his system at the Stockholm High End

The chain VälLjuD played on was composed by:
•
Oracle
Audio mk VI Turntable
• Oracle SME reference tonearm
• Kondo IO-M pickup
• Kondo KSL-SFz step-up transformer
• Kondo KSL-M7/Phono
•
Kondo
Ongaku
• Kondo KSL-SPz speaker cable
• Kondo KSL-LP interconnect cables
• Blumenhofer Acoustics Genuin FS 3

A lot of people were in the room and sat there for a long time listening to the system, more than one noted how enjoyable and engaging the system played.


Surprisingly fast and productive started our cooperation with VälLjuD, our new Distributor for Blumenhofer Acoustics in Sweden and Finland.


Välljud AB
Box 5097
20071 Malmö
Tel +46 (0)734 228 118
E-mail: info@välljud.se
web: http://www.valljud.se
See Older Posts...